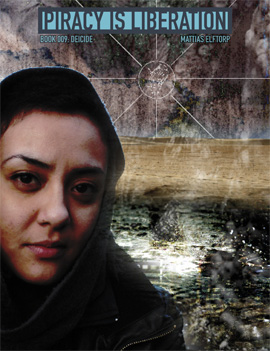 Cover by Wormgod
Story, art and design by Mattias Elftorp
84 pgs, b/w
Published by Wormgod.
ISBN: 978-91-978418-3-2

Chapters
SPYWARE
JHVH
DEICIDE
THE LORD OF FLIES (Bonus story)
PIRACY IS LIBERATION 009
-Deicide-

Spring 2011.

Spyware goes out of the City to fulfill a lifelong dream, but she finds more than she expected when she meets the ancient anarchists living there. They tell her a story from before the City even existed. A story about the death of God.

Bonus material in this book: The Lord of Flies from C'est Bon 1.

Contains the finalist story from the 4th Morning International Comics Competition: SPYWARE!