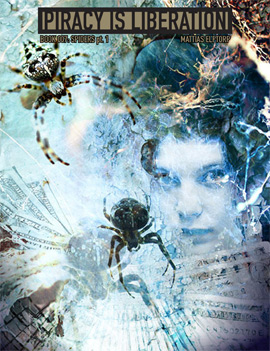 Cover by Susanne Johansson
Story, art and design by Mattias Elftorp
68 pgs, b/w
Published by Wormgod.
ISBN: 978-91-978418-0-1

Chapters
DEAD CITY
AT THE ARCADE
SPIDER
PIRACY IS LIBERATION 007
-Spiders pt. 1-

Fall 2009.

The gods are real, but most of them are dead. Pirate learns this and many more secrets from the anarchists in the desert as he gets his new assignment. Something is moving on the net. Some kind of entities seem to be interfering with its users. Are these signs of the birth of a new god, or is it something else entirely? And how does it affect the plans for the Information Upgrade that the anarchists are planning? We also get some insight into everyday religious life in the City through the surveillance cameras of a Shopping Temple...