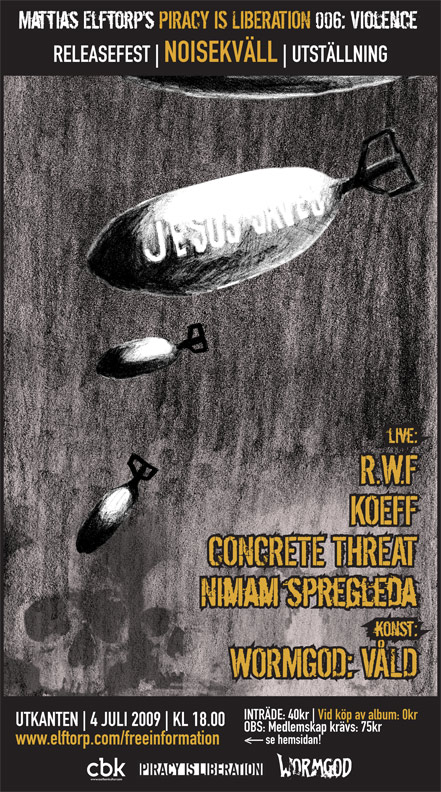 Poster design by Mattias Elftorp.
Welcome to
The Piracy is Liberation 006: Violence release party
@ Utkanten (Industrigatan 20, Malmö)
July 4 2009
Music: Harsh noise and industrial live performances
and a DJ-set with a selection of violent music.
Art: Two exhibitions on the theme of violence will be shown.

The entrance fee is 40 SEK, but you get in for free if you buy one or more copies of Piracy is Liberation. Please note that you need to be a member to get in. Send an email with name, first 6 digits and address to mattias@elftorp.com.
Membership costs 75 SEK/year.
LIVE:
CONCRETE THREAT will present a one-man performance this time, but promises an experience at least as harsh as last time.
KOEFF returns, this time in person and not just projected on the walls.
NIMAM SPREGLEDA will deliver hard old-school industrial.
R.W.F. will give us some more noise.
EXHIBITIONS:
WORMGOD: VÅLD presents an expansion of the exhibition konSEKVENS that was shown in Växjö earlier this year. Wormgod is the combined forces of Susanne Johansson and Mattias Elftorp.
MATTIAS ELFTORP will also make a rerun of parts of the Violence exhibition with a sequence from the book of the same name.
DISTRO
Rev/Vega Rec and CBK material will be available for sale, including all back-issues of Piracy is Liberation, of course.
This event is arranged by Wormgod with the support by C'est Bon Kultur.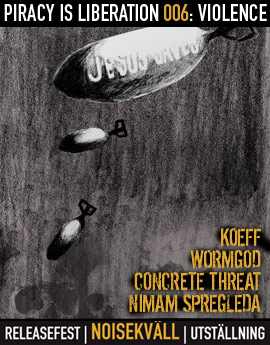 Facebook event description:

4 JULI @ UTKANTEN (Industrigatan 20)
Kl 18-24(?)
Inträde: 40:-
Gratis vid köp av Piracy is Liberation-album (80:-)
Piracy is Liberation kommer också att kunna köpas till fett förmånliga paketpriser!
OBS: Medlemskap i Utkanten krävs! 75:-/år, gäller för alla arr på Utkanten. Maila namn, 6 första siffrorna och adress till mattias@elftorp.com senast ett dygn innan, betala kan man göra i dörren.
--------------
RELEASEFEST:
PIRACY IS LIBERATION 006: VIOLENCE. Postapokalyptisk cyberpunk av Mattias Elftorp, med omslag av Susanne Johansson.
The Free Section is being evicted and violence erupts, on both societal and individual levels. Information_copy has been captured by the Infopolice, but can their interrogator break her? The keepers of the violence monopoly do their best as usual to enforce order and control and they are stronger, have better weapons. So who will win in the end? Can there even be a winner?
--------------
NOISEKVÄLL:
-Helsingborgsgruppen CONCRETE THREAT bjuder denna gång på en enmansföreställning, men dock med samma brutala harsh/väggnoise som vanligt.
-Ni som var på förra releasefesten minns KOEFFs musikvideo WITHIN. Denna gång framför hon sina industriella experiment live.
-NIMAM SPREGLEDA från Helsingborg levererar hård old-school industri.
-R.W.F bildades i en likkyl i Linköping 2005. Trion består av medlemmar från Fria Konstellationen och Miljoner Döda. Sedan starten har de träffats 2 gånger och spelat in improviserade noisesets som dokumenterats på två splitkassetter, den ena med Speedwolf och den andra med Ohvoth. Båda utgivna av rev/vega rec.
-På dansgolvet blir det allsköns brutal och härlig musik.
-Distro av musik och serier kommer också att finnas för dig som vill ha med dig saker hem. Utbudet kommer framförallt från REV/VEGA REC och C'EST BON KULTUR. Naturligtvis kommer alla PIRACY IS LIBERATION att finnas tillgängliga.
--------------
UTSTÄLLNING:
-WORMGOD: VÅLD Susanne Johansson och Mattias Elftorp vidareutvecklar och utökar Wormgods första utställning, konSEKVENS, på temat våld.
-MATTIAS ELFTORP visar återigen upp delar av sin VIOLENCE EXHIBITION som tidigare visats under ESF 2008. Den innehåller en sekvens ur Piracy is Liberation 006: Violence och har temat polisvåld.
--------------
Arrangör: WORMGOD med stöd av C'EST BON KULTUR